Not without some of the usual dramas of international group travel (plus some other very clever individual ones of mine), and after 3 successful-but-tiring back-to-back shows in Adelaide, I arrived with the Co-Opera troupe in Singapore where we performed our first Black Water/Acis & Galatea at the Esplanade Theatres.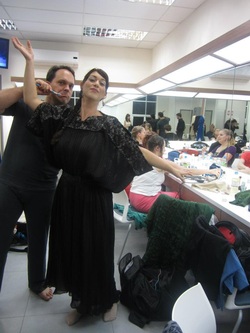 Jeremy Tatchell and I, backstage glamour, Penang
Alas, the whole of the Asian tour was quite grueling in terms of schedule, and so for me it was very much about trying to look after myself as well as possible, and conserve energy. The very next day we travelled by air and road to Penang, in Northern Malaysia. Some of the scenery on the journey was completely stunning, though a timely reminder that large portions of Malaysia's beautiful landscape is threatened by mining, logging and plantations for the palm oil industry. That evening we went straight into late rehearsals before returning to the free a-la-carte dinner at the super-swish 5-star hotel provided for us by the organizers of the Penang performance. It was a welcome haven at the end of a very long day!

Two days later we returned to Kuala Lumpur for the final Black Water/Acis & Galatea in the lovely, historic Chinese Assembly Hall. I think what I loved most about that show was the incredible acoustic. It felt like I could have spun a single note out into the air forever. After 6 performances as Kelly (12 altogether this year), both Julie Sargeant and I agreed that we were more than ready to set that particular story down, given that the telling of it has not yet become any easier. (Perhaps, in fact, it shouldn't get easier.)
But if there was anyone more grateful for the end of the BW run than I it could only be my hairdresser, as straightening, teasing and hairspraying the heck out of my poor hair for a few months had left me wondering if I wasn't in line for a bald patch sometime soon.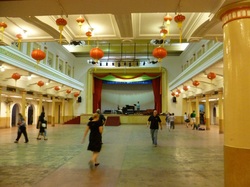 Warming up, Chinese Assembly Hall, KL
The entire company celebrated that night at an amazing late-night feast in the heart of Kuala-Lumpur's Chinatown – it would have to have been one of the most surprising and delightful meals I've had this year – really remarkable. The boys ordered chili frog! Can't wait to return to Kuala Lumpur sometime with more time and energy to explore it!

The next day we travelled south to Melaka and piled straight off the bus into 3 hours of rehearsals for a variety gala concert that night which was enormous fun (and dare I say, even more fun backstage, given we were all deliriously tired and therefore slightly hysterical by this point). More company feasting followed, outdoors in the sultry heat of 1am, before a quick walking tour of the river in the centre of town. Sleep? Sleep is for the weak. And the sensible. And the lucky. But not for us.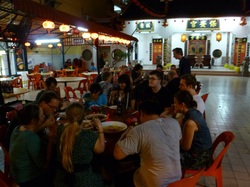 Feasting on local delicacies, 1am, Melaka
The following day, our last in Malaysia, I could FINALLY justify wandering around in the brain-frying heat for four hours doing some sightseeing, and (swollen ankles notwithstanding) I am SO glad that I did, as Melaka is the most incredible collision of centuries of colonial forces, all vying for the spice trade routes. Wave upon wave of foreigners arrived and shaped the history of this place with their new technologies, materials, customs and gods. The air was so thick with spice I'm pretty sure I could have licked it off my skin.

I was exhausted enough that that might have seemed like normal behaviour.