So, just over halfway through my year in Austria, and what an extraordinary place it is. How impossible it seems to encapsulate life in words though, sometimes, so I'll put up lots of photos! It can be very tough being away from your loved ones, and that is so often part and parcel of being a (fledgling) musician. But there are certainly lots of things to keep one entertained/bewildered in the meantime!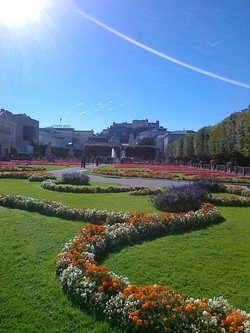 I'm loving really getting stuck in to a lot of technique and repertoire, working really hard both with Barbara and my amazing coach, Gaiva (who has accompanied the International Mozart Competition for the last 3 years and is fabulously feisty with her musical opinions….which, due to our lack of a common language, are conveyed through a hilarious mixture of pigeon German, pigeon English, and hand gestures. We're both improving though! Ha!). I've had the chance to travel up to Vienna and work with one of the fantastic coaches at the Vienna State Opera, and go for coachings in the Opera House (always very exciting, star spotting in the corridors). I've had the chance to travel to Graz to sing with my lovely friend Ella, and work with her wonderful teacher, Mr Julius Drake. The most exciting aspect, though, would have to be the proximity to truly great performances: there is just music EVERYWHERE. Everywhere in Salzburg, and then 4 Euro standing-room tickets at the Vienna State Opera……I've certainly been enjoying that when I can make it up there! It's quite amazing to be in that paradigm of music being central to life and accorded so much respect. Should I feel a little sorry for the nation's sportsmen….? ;)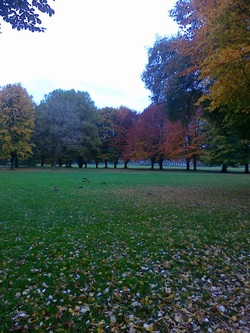 There's so much to learn, on so many levels. It's confronting. It's confusing. It's lonely. As with the majority of worthwhile undertakings, it's difficult. I await the Spring with baited breath.

In the meantime, I find myself increasingly fascinated by Untersberg, the mountain peak which towers over Salzburg and which greets me so many times a day: peeking over the tall trees at the edge of the Mirabell Gardens when I walk home from Uni, and whenever I travel to and from Salzburg by train or plane. One of the legends has it that Charlemagne sleeps under the mountain, and that when Europe needs him again he will wake up and march down with his armies. Whenever I catch sight of it, I can never work out whether I feel watched, or simply watched over, but I find it unsettling, as though Untersberg somehow embodies all my challenges here, and I am somehow fighting something very ancient.


Still, if your sense of myth is not stirred by living in a place like Salzburg, so steeped in both fairytale and horror, then how can you purport to be a storyteller?