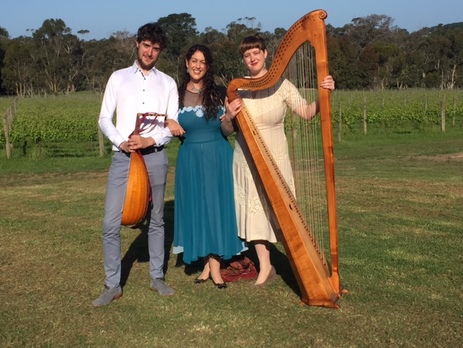 Spring, and vineyards, and music – what is not to love about that? Myself and the members of fabulous Melbourne-based early music duo
Ensemble 642
were asked to perform at "The Long Lazy Lunch", hosted this year by the Hurley Vineyard on the Mornington Peninsula, as a fundraiser for the
Peninsula Summer Music Festival
summer school in 2016.
My brave pluckers had run the continuo gauntlet of not just one but several instrumental malfunctions disrupting rehearsals (due to weather fluctuations in the previous week of preparations), and I too had been taken down by a rather nasty spring cold, so it was an occasion where the adrenalin was running high and because of that, as always, magic happened on stage.
It was one of those beautiful Spring days where it is warm in the sunshine but still really cold in the shade, and a chill but gentle breeze played round us as we waited out the back (enjoying, when we could, our own portions of the beautiful food). We performed in the barn surrounded by many giant barrels of aging wine, while our patrons feasted their way through various wines and courses provided by well-respected chefs from the likes of Port Phillip Estate, Montalto, Paringa Estate, Avani, Ten Minutes by Tractor and of course Hurley Vineyard. One of the owners of Hurley Vineyard commented to us afterwards how much she loved the idea that their currently developing wine might have been imprinted by the cheeky or heart-wrenching baroque music wafting through the barn that afternoon.
To finish an absolutely perfect day, after the clearly very happy audience had finally dissipated and we had packed up and were waiting for our ride back up to Melbourne, the other very kind owner of Hurley Vineyard just started plonking opened-but-unfinished bottles of wine and champagne in front of the three of us (as well as a bottle of Hurley souvenir wine for each of us to take home!) and said, "Well now, you kids should probably be able to deal with this, if you've got an hour or so to kill? Why don't you wander down to the lake?"
​
We finished the dying hours of the day swigging delicious wine on a small jetty, laughing, watching the ducks, with Nick holding forth on the bizarre connections between the origins of the modern rediscovery of the lute and Nazi propaganda (yup – totally mind-boggling, as are many of the things in Nick's brain). Performing with
Ensemble 642
is such a treat – both on stage and off – and I'll be hunting out more opportunities to do so in future if I can! In the meantime, you should check them out if you are in Melbourne! [See above link]