I have never had the good fortune to be able to sleep on planes, but this time, on the journey from Kuala Lumpur to Frankfurt, I slept for 12 hours. I'm still slightly freaked out by that and what it says about the toll taken by the first leg of tour, but grateful all the same. Europe was firmly in the grip of Spring when we arrived, and that is a glorious thing. I felt refreshed and was looking forward to reprising Figaro.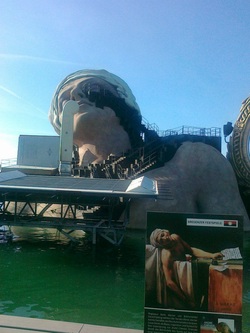 Andrea Chenier stage, Bregenz
Ok, I'm lying about feeling refreshed. I felt fortunate to have stepped back from the brink of exhaustion-induced psychosis. But I was looking forward to Figaro.

We travelled to Bregenz, Austria, perched sweetly on the edge of a beautiful lake (Konstanz) and seemingly with every tree and bush in bloom. Bregenz hosts the Bregenzerfestspiele, a festival where opera is performed on mammoth sets which float out on the lake. This year the stage is set up for performances of Andrea Chénier (although we were in the smaller, internal performance space and not out on the lake!).

We had only two days to re-rehearse Figaro, so of course I had been looking at my score and trying to remember my blocking in the days beforehand (in fact the only other thing I'd done on the plane was study Susanna). I was feeling confident but was interested to see how much still lived in my body, as that was an astonishing and very pleasing discovery I'd made for the first time the previous November: that somehow not just the music but the movements and characterisation live somehow hidden in your muscles and then reappear at their musical cue! I'm sure old theatre hands are nodding their heads at this, but it was a relief for me to learn that, even if I don't understand how it works!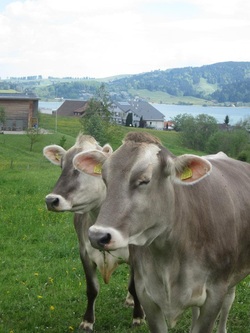 Cows. No, seriously.
The second day of rehearsals happened to be my birthday, and my orchestra friends decorated the rehearsal room for me and bought cake, and I was treated to a typically deafening and harmonically embellished rendition of "Happy Birthday"…. I felt incredibly privileged to be in a pretty foreign city rehearsing a role I love with people I love to make music with, even though I had to be away from my partner and family. It was a birthday to remember.

Einsiedeln, Switzerland was the next stop on our European tour, and here we stayed in a hotel just across the road from a historic cloister, long a pilgrimage destination and graced with a baroque cathedral the inside of which looked like something Barbie would design on acid. Pink, gold, white; filigreed in every direction with a host of cherubim (every single one of them in a different pose) - who in my mind would give Chuckie a run for his money in the creepy stakes. That said, we were fortunate enough to catch the monks at Vespers, singing plainchant which has remained unchanged since 1547, and I'll be honest: it was so beautiful I had a little cry. Perhaps the purity and simplicity of it, in that setting, was more than my brain could take. Perhaps I was just really freaked out by the cherubs by then.
Our final stop on the Figaro Europe tour took us back to Germany and the attractive town of Wiesbaden. Wiesbaden is built on thermal springs (the "bad" in the name gives it away) and the fountains in the park across the road from our hotel actually steamed, the water coming out of them was so hot! No complaints at this anomaly though - at 6 in the morning it was still a touch chilly and certain of us discovered on our final night in town that it is nice to take your shoes off and stick your feet in while you polish off that last beer.

The final show took place in a beautiful outdoor concert shell in the Kurpark, looking out onto a lake and blossom trees. I don't think I could have asked for a more perfect ending to my Susanna adventure – I've always loved outdoor shows and I've always done better performances when faced with last-minute changes of set shape or blocking, and/or dangerous hazards whilst on stage (which have often been part of the Co-Opera experience). All of these things were present in the final show, due to a massive thunder storm which arrived just as the Third Act began. It only ever buckets with rain when there are extra electricals (in this case sound equipment) rigged up! I had a horrible moment when I thought the performance itself would be stopped due to the weather, and for whatever superstitious reason couldn't bear the idea of my final Susanna for the production being left uncompleted. But we and most of the audience soldiered on, and I finally hung up my costume with a nice sense of closure, and a real feeling of gratefulness.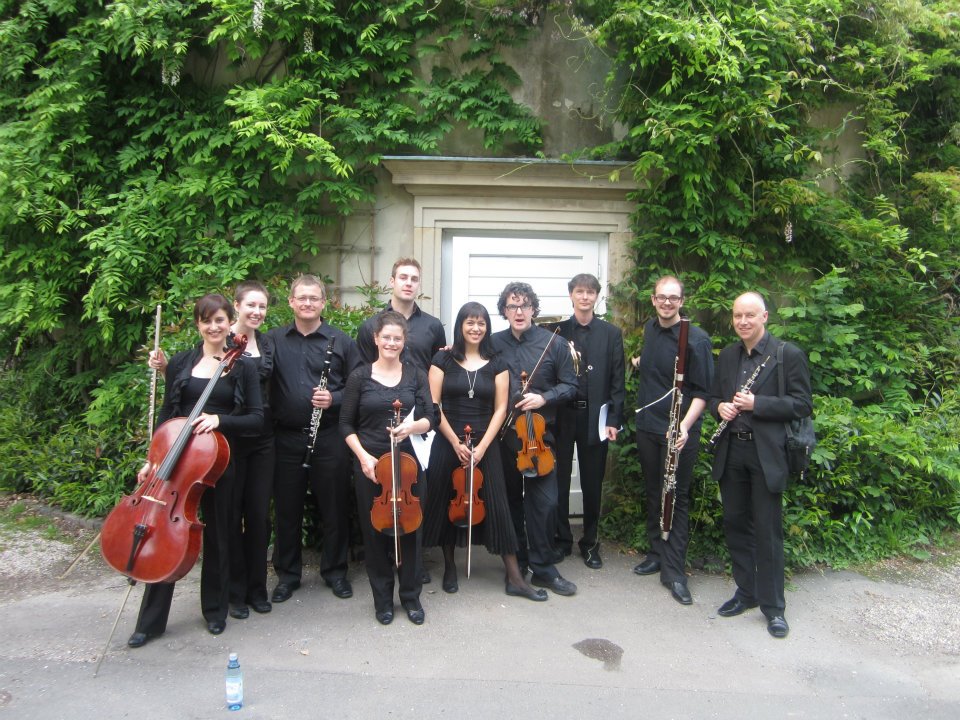 My beloved Figgy Orchestra, so much thanks! Out the back of the wisteria-covered concert shell, Wiesbaden
It completely blows my mind how much ground I've covered – both literally and metaphorically – in the last year and a half, how much I've learned both about my craft and about myself, some of the friends I've made, life-changing and lifelong. I can't articulate even half of what the experience has meant to me. Which is just as well, because nobody wants to hear about how happy you are about how amazingly your life has turned out after all, even when you never thought it could, because that's just IRRITATING, Karen.