I awoke last Sunday morning to the 14th straight day of rain – mostly tropical in strength – and I honestly thought I was going to lose my mind. I didn't know the sky could hold so much water this far from the Equator! And despite it being early June, and Spring being promised some time ago according to….well, the usual rhythms of the planet…..it is still freezing rain. HOWEVER. I literally couldn't stand to be inside another day, and decided to go running, like a psycho, in the freezing, pouring rain, because the pain of that (and the risk of getting sick) couldn't possibly be worse than being inside and listening to the infernal drumming for one more hour.

It being Sunday (and Sunday being a proper day of rest here in Austria, when all the shops are closed and you don't tend to see many people about), I realised within about 20 metres of my door that something was not quite usual. Despite the downpour, clumps of people dressed in wellies and carrying umbrellas and cameras were all gravitating towards the river. I live only 2 blocks back from the Salzach, and was heading that way anyway. I heard the change before I saw it.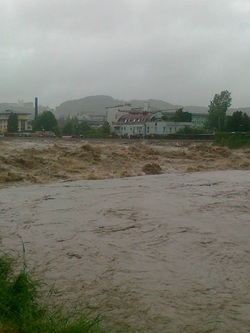 I crossed my local park – itself under several inches of water – and joined hundreds of awestruck people watching the river rage. It was the most significant Hochwasser (lit. "high water") in ten years.

The Central European Floods of this summer affected Germany, Austria and the Czech Republic the most, with lesser impacts upon Switzerland, Poland, Hungary and Serbia. Twenty five people lost their lives.

The two things I found most incredible that day were the river itself, carrying ENTIRE TREES like bobbing sticks and pitching them into the roiling cauldron below the weir, and the fact that - Austrian opinions on OH&S being so different to in Australia - all day long you could just walk right up to the river without so much as a piece of police tape trying to stop you (I should add, however, that most of the 12 bridges were closed for safety). I dipped my toe in it as it lapped over the roadway, wishing for a magical transfer of some of its power and speed, I suspect.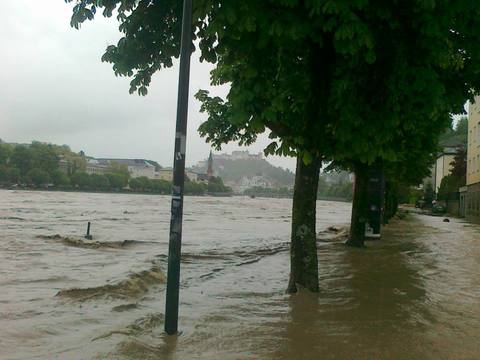 Luckily there was no great damage done to Salzburg that day. All the train lines were cut for the day (some due to landslides, which I personally witnessed the following day on my escape to Vienna, along with cars still submerged up to their bonnets) so many people were inconvenienced overnight, and there was some localised flooding and evacuations nearby, but the many architectural treasures of Salzburg remain safe.