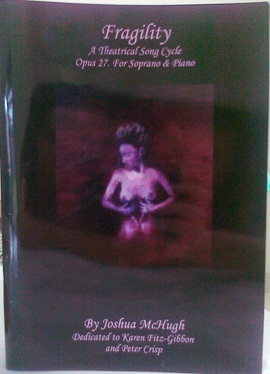 In early September I was lying on an acupuncturist's table feeling sorry for myself when I heard my phone go.

I had been very sick over the winter and unable to work at all (apart from some wonderful, spirit-saving lessons/coachings with the amazing Ms Emma Matthews, and the inspiring Maestro Richard Gill) and I thought to myself, "You know what I really need is to be making music with my friends. Always sure to restore your mojo is if you just focus on the music and the joy. Forget the rest of it." When I picked up that voicemail, my prayers had miraculously been answered.

Currently New York-based composer and pianistic pedagogue Joshua McHugh had been a good friend of mine since we met at University, and bonded over an affinity for pinecones and nonsense. Josh had recently performed a concert which included a set of original art songs written for and performed by two other dear singer friends of ours, now based in Vienna. The concert had gone so well that the venue wanted him to organise another, but our friends had returned to Vienna after a whirlwind 'holiday' in Australia. "I have a concept for a song cycle," he said, "and if you're interested in singing it for me I can tailor it to your voice as I compose it."

Um……YES?!?!?!?!!!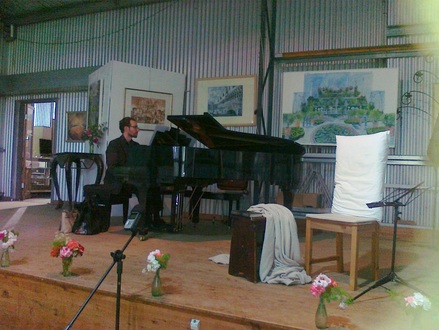 Only two months later, we were on stage at the Crisp Galleries in Yass, performing the 11-part, 2 act "Fragility" together with a selection from Josh's works for solo piano, in a semi-staged setting. This beautiful, lyrical work first traces the mental deterioration of a somewhat Miss-Havishamesque character rattling around in her boudoir, before redeeming her through her own suffering on a lonely beach populated only by her memories.
The month after that, we spent two days in a recording studio in the Blue Mountains, just outside of Sydney, committing the work to digital record before Josh flew to the United States.



​It had been a while since I'd been in a recording studio set up (and for this one I was in a separate booth of my own) and I had forgotten how challenging it is wrestling one's own perfectionistic demons! Fortunately I used chocolate to defeat those demons and we got through it.
For more information on this piece and Josh's work in general, check out his website,
here
. I'll be posting a taster of the "Fragility" recording once the mastering is finished – exciting!