The first two shows, as part of the Adelaide Fringe, were some of the hardest performances I've ever done. Australian premiere, the composer sitting in the audience (directly in my sight line), both performances being videoed. Not to mention it really being the most challenging work I've taken on up to this point: technically, vocally and dramatically. And topping it all off, my sense of personal responsibility towards the piece: I really wanted it to touch people. It's fair to say I was feeling some pressure….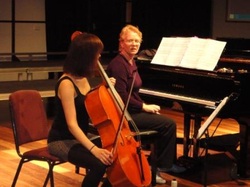 Zoe Wallace (cellist), and Julie Sargeant (piano, and the originator of this plan to bring Jeremy Beck's music to Australia) began the programme with Beck's beautiful Cello Sonata No 3 "Moon". I fell in love with this piece the first time I heard it and it has been such a pleasure listening to it develop and unfold each time I prepare myself to go onstage.

On opening night, emotions ran so high that both Julie and I burst into tears as soon as we got off stage! The second performance saw us a little more in control, however, which apparently made for a more powerful impact on the audience. After both performances, I had people come up and tell me we had made them cry, or that the piece had made them "feel sick to their stomach" – can't say I've ever had THAT response when singing Purcell or Debussy!

The most special reaction, however, was from the composer Jeremy Beck, who got me in a big bear hug and said, "THAT was IT." That was the point at which I started crying after the SECOND show. But enough of the tense, exhilarating and emotionally-charged atmosphere onstage and more about the man behind the music.

Jeremy Beck, who flew out to be with us from Kentucky, USA, has earned awards, grants and honors from the American Composers Orchestra, California Arts Council, the Los Angeles Chapter of the American Composers Forum, Kentucky Foundation for Women, Millay Colony for the Arts, Meet the Composer, Wellesley Composers Conference, Oregon Bach Festival, Iowa Arts Council and the American Music Center.

He holds degrees from the Yale School of Music, Duke University and the Mannes College of Music, and has released four CDs of his music. The critic Mark Sebastian Jordan has said that "Beck was committed to tonality and a recognizable musical vernacular long before that became the hip bandwagon it is today. Indeed, [he is] ... an original voice celebrating music."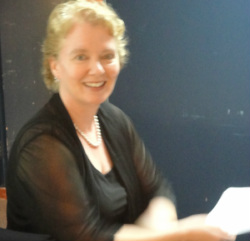 The wonderfully talented and very inspiring Julie Sargeant.
He is also a thoughtful man; incredibly kind and generous towards his interpreters, without a need to talk unless he really feels he wants to add something, and with a wonderful openhearted quality. Perhaps this openness of spirit is what allows him to create in the way that he does.
He told us that he had sent the score of "Black Water" out to many singers, some of whom had requested a copy from him having heard the piece, and that many of them had taken one look at it and sent it back, saying it was too difficult. It has only been performed four times in the States to date. That made me inordinately proud of what I've managed (none of which I could have done without Julie Sargeant).
He also laughed his guts out at "Total Recall", which he'd not seen before, and did a hilarious impersonation of Arnold Schwarzenegger. Legend.
Please, if you're someone who is interested in being exposed to new music, Beck's works are both beautiful and complex – check some out! His website is:
www.beckmusic.org
, and there's even a movement of the Third Cello Sonata on there for you to listen to.