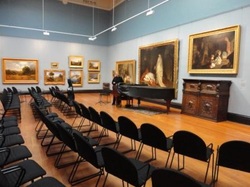 One of the upstairs galleries in the Ballarat Art Gallery
The Ballarat show was gorgeous, with the very generous acoustic of the historic art gallery giving us some challenges regarding the wash of sound, but also making it a joy to sing the lyrical passages. Ballarat is the only stop on this small tour where I have not been before, and it made me homesick for the road – oxymoronic as that is. The countryside - unusually green for this time of year - always makes me happy, and as difficult a lifestyle as it is, living out of a suitcase for weeks at a time, it really does seem worthwhile when you get to see places in Australia you would otherwise not have cause to visit. My year touring with Co-Opera last year, through Queensland, NSW, the ACT, Victoria, South Australia and Western Australia, made me very appreciative in that direction! Perhaps I was born to be a traveling minstrel after all. :)

By the time we three arrived in Canberra we were definitely feeling the tour burn. Sadly, I have yet to discover a better antidote to summoning the cold creep of poisonous water through my veins than to flush them with a nice full-bodied red wine after each show. This is not an entirely constructive habit, but does allow one to participate satisfactorily in the obligatory post-show conversation. As a result of this habit, however, my tour colleagues were treated to rather more of my anecdotes than I would have liked and now have all manner of dodgy ammunition with which to bring me down. Gah! Anyway, to give you an idea of how far things had deteriorated in the Sensible Stakes, we had discovered that all three of our dads are called Peter, and had taken to calling ourselves "The Daughters of Peter", and positing ideas for a creepy cult. As you do.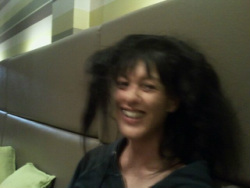 Nor could I wait, by the end of this dinner, to get all the pins out of my head and take the beehive down, leading to me sitting at the dinner table in this packed pub looking like I'd stuck my finger in a power socket. Still, once you've swung from a signpost in a sleepy historic gold rush town or chased a giant goat through a field dressed in corset and 18th century maid's costume as I did last year, your attitude towards "appropriate behaviour" (always tenuous) shifts irrevocably.

Julie and I both admitted later that by Ballarat we were kind of ready to put the burden down, and the final two shows were difficult. For my part, when I arrived in Canberra I thought I was fine (although very tired), went out for a jog, and then found myself crying in the shower. Fortunately one of my angel friends was smart enough to sit me in front of excellent telly and feed me curry. Despite the unravelling, the Canberra show went well.

The Sydney show, on the other hand, became a story that I suppose I will reference the next time I am on tour drinking too much.

We were gathering our strength for the final performance, but, well, I'll admit to being bloody miserable. I hadn't admitted it straight away because I have a tendency towards oversensitivity and I didn't want to be precious. Or clichéd for that matter. I mean, god, if you're going to be "but I'm an ARTISTE dahling!" then at least be original in the ways that you're annoying, right? But I guess you just can't tell that story – in fact, you shouldn't – without it leaving you empty. To go over her terror, her pain, her confusion, her heartbreaking hope; to relive her saying goodbye to her parents in every performance… It really did take its toll. I think the voice of my Narrator got more and more bitter throughout the run, and I found myself gritting my teeth at the end of my final "…and she died".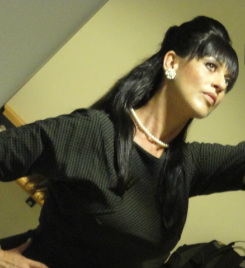 Fortunately for me Julie broke first, and then I at least allowed myself to accept it. "I don't really think I can do any more of this, I can't IMAGINE how YOU must feel, having to do all the words!"

So it was with the last bits of our energy, and a certain amount of relief, that we embarked upon the final performance…….only to get 10-15 minutes from the end and have it interrupted by a full scale fire evacuation!! I realised quickly enough that I WOULDN'T be allowed to call it a night and go for dinner, so I took myself off into the darkness by the Botanic Gardens, away from the large body of audience, students and staff that poured out of the Sydney Con. The jazz musicians commenced jamming on the street, and everybody cheered the firemen when they came, and I sat watching in the shadows, suspended between life and death, between Kelly and Karen, with my high heels in my hand and the stone warm under my feet. Couldn't believe it. Talk about prolonging the torture.

But eventually we got back in, and I was surprised by how well we managed to get back into the flow of it, I think partly because the music is so fiendishly tricky that there is no choice but to be 100% concentrated on the piece. There doesn't seem to be any way to make it work other than to give yourself over to it completely.

We gave ourselves over to it completely. It was an amazing tour, and it was a total honour to travel around and make beautiful music with the other Daughters of Peter, fabulous musicians and hilarious girls that they are. I DO love my job, even though it was a bit painful this month.