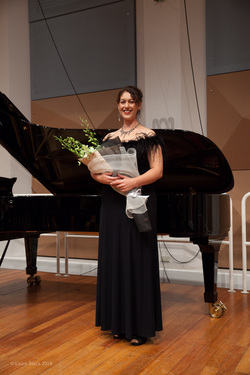 "Let's face it. Nowadays, music is a vocation. And so, without community, we have nothing……"

Taking part in the Mietta Song Competition this year (19 & 20 July) has been such a positive experience and, as most musicians will tell you, competitions rarely are. For that reason, I am really happy and very proud to have been a part of it and even more, to have made it to the finals. Believe me, I was so sure I'd blown it in the semifinals, that I could barely contain my excitement when my name was read out as a finalist. I hadn't bought any food for breakfast, as I was fairly convinced (in a field that strong) that I would be brunching leisurely on the Sunday instead of preparing for a final! Duh.

I think there were several things that contributed to me finding the Miettas such an encouraging and uplifting experience. First of all, there is the fact that by now I've taken so many beatings at competitions and auditions that I guess my coping skills are just a whole lot better!

Secondarily, there was the oft-repeated information right from just after I qualified as a semifinalist, back in March, that the competition this year was going to be very close/the strongest field that had ever been seen at the Miettas/full of wonderful performers/some variation upon this theme. This was obviously very intimidating, but also made me feel very special and grateful to have even had the chance to compete. [I was also excited to air a particular piece – Dulcie Holland's "To An Infant Son" – as it was the first time it was heard publicly since it was first written in 1958. I discovered this handwritten piece amongst Holland's private papers (held at the National Library) when researching my Honours thesis in 2010, and it has not yet been published.]

As is fairly normal for me, in order to not freak out, I did not read anyone else's biographies until after we were done. HOLY DOGBERRY!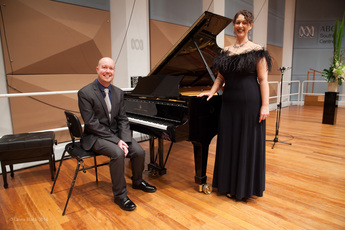 Sixth and lastly, I felt a genuine camaraderie with the majority of the competitors and even walked away with a few new friends. They were just a really nice bunch of people, and for that I am grateful.

Thirdly, the two days' worth of masterclasses on the preceding days, with the likes of Caroline Almonte, Merlyn Quaife, Prof. David Kram, and an industry panel with Alex Furman, Helen Noonan, Anne Frankenberg and David Hobson, were so incredibly inspiring to me – brutally honest, but inspiring all the same – that I had to force myself to go home and calm down on Friday night in order to sleep before the big semifinal day! I really must recommend that, for any singers in Melbourne (or if you are willing to travel), these masterclasses are open to the general public each time the competition runs, and were SO worthwhile going along to!

One of the most important pieces of wisdom which really resonated with me (amongst several!) was something from Caroline Almonte: "Let's face it. Nowadays, music is a vocation. And so, without community, we have nothing……" I loved that she told us this at the beginning of a competition, and I am sure it went a long way to helping promote the lovely atmosphere which pervaded.

And, to conclude, the best thing about this particular competition was my lied partner, Leigh Harrold, who played for both Ayse Shanal and myself, and quite deservedly took out the first prize for the pianists. When I first spoke to Leigh about this we barely knew each other, and I felt rather forward even asking for a recommendation for a Melbourne pianist to work with. His suggestion that we do it together was the thing that galvanised me into actually entering the comp in the first place, and we have both since articulated that the fun part was getting to work on the whole program together, becoming proper friends in the process, and – BONUS! – getting to perform the whole program in the finals, as we had hoped we would.

So there you have it. Resilience, quality performances, camaraderie, inspiration from mentors and ideas, community, artistic partnership, and fun. Completely obvious, when I put it like that, why it was such a satisfying weekend of music-making.

And easy for me to see why, even though I wasn't awarded the big prize, I have come away feeling more confident in myself and what I do than I have for a long time: because it is growing ever clearer that for me, music is all about community, and not about coming first. In an industry where opportunities are few, and we are often made to feel that our worth is relative, that is an idea that makes me happiest of all.


(Photos thanks to Laura Black)