This week was one of wonderful surprises!

On Thursday I had a call from my dear friend and mentor Alan Hicks. "So….are you up to anything this weekend?"

Alan was due to perform a recital concert that Sunday with the gorgeous mezzo-soprano Christina Wilson for Art Song Canberra. Christina's hectic performance schedule during the month of May at the Canberra International Music Festival, however, had resulted in her getting sick and completely losing her voice only a few days before the concert, which was heavily advertised and expected to be well-attended (so he didn't want to cancel outright). Alan knew I was preparing a lot of art song repertoire for the upcoming Mietta Song Competition (19 & 20 July), and he asked if I would consider stepping in.

Art Song Canberra was founded in 1976 and has pursued its goal of "fostering and extending the love of art song" for nearly 40 years. Having been aware of the organisation since my time studying in Canberra, I have wanted to perform for them for a few years now, and whilst I was already on their radar there are such a plethora of amazing and distinguished interpreters of art song in Australia, I knew I would have to wait a while to be invited. So this opportunity to jump in and prove myself was irresistible, no matter how underprepared I may have felt!

I flew down to rehearse on the Saturday, and on the Sunday morning was contacted by organisers who were frantically trying to print up a replacement program, asking me for a title for the concert. And therein lay the rub.

Normally, when programming a recital of any kind (but especially art song), one must seek to take the audience on a journey with you, and create a satisfying narrative thread to link the performance together. In this instance, however, I was presenting a program which I had chosen specifically for its diversity, to attempt to show off as many different facets of my art song repertoire as possible. Indeed, I had programmed for maximum contrast. How could I possibly knit it all together?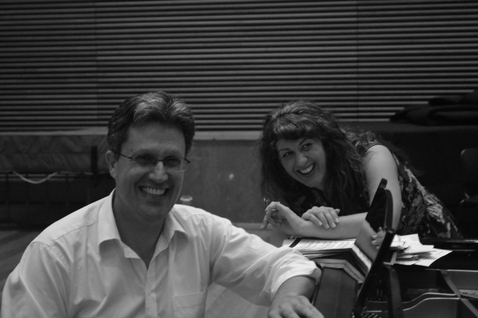 Then I realised that the one thing that the majority of the pieces had in common was that I had either first discovered them in Canberra, or worked on them with Alan as my coach and accompanist – either at the ANU or during our two ABC recordings.

"So, Alan, how do you feel about me just telling funny stories about conversations that we've had in coachings and stupid things we've gotten up to at the ABC? I can't guarantee exactly what is going to come out of my mouth…."

"Look", replied an entirely harassed and exhausted (but still smiling) Alan right before we stepped on stage, "if I haven't made them laugh then I don't consider I've done my job." Spoken like a true Alan.

And so commenced what could fairly be judged to be the most intimate recital I have ever given in my life; peppered with stories about my evolution as a musician, discovering the music that I love, travelling around the country and across the globe, and generally being an ignorant ditz who has never been entirely sure she belongs in the world of classical singing.

We called the concert "From Little Things Big Things Grow" and I performed it as a dedication to my musical homeground, Canberra, and the audiences who had supported me as I moved through the ANU School of Music. The atmosphere was really magical, as I guess can happen when you bare your soul as a performer, and tell people poignant and dorky memories from your musical and professional development, and of course sing with your whole heart (which I always strive to do). There was lots of laughter from the more than 100 attendees (thank goodness!), some tears, and even a standing ovation.

Afterwards, when I emerged to the drinks reception, I noticed that when people came to speak with me they were immediately touching me, handling my jewellery, holding my hand, hugging me, offering me glasses of wine, telling me their stories of musical education and even their stories of recent bereavement with tears in their eyes. I realised that I had made them feel so comfortable and close to me that we were now all friends. That they wanted to give something back to me.

I have rarely felt more honoured or more touched by what is possible in performance, nor more sure of the kind of singer I want to be. A REAL one. Just like that. Not about frills and dresses and being clever with the music. Not about sticking to the rules regarding decorum on stage. I think the fact that I had to jump in like that did not allow me to adopt my usual polish and preparedness; it meant I had no time to fret, I was just plain old goofy Karen.

Thank you, kind and loving music supporters of Canberra, thank you for the love and for the reminder of what it's all about!


(Photographs courtesy of Jessica Harper Photography)